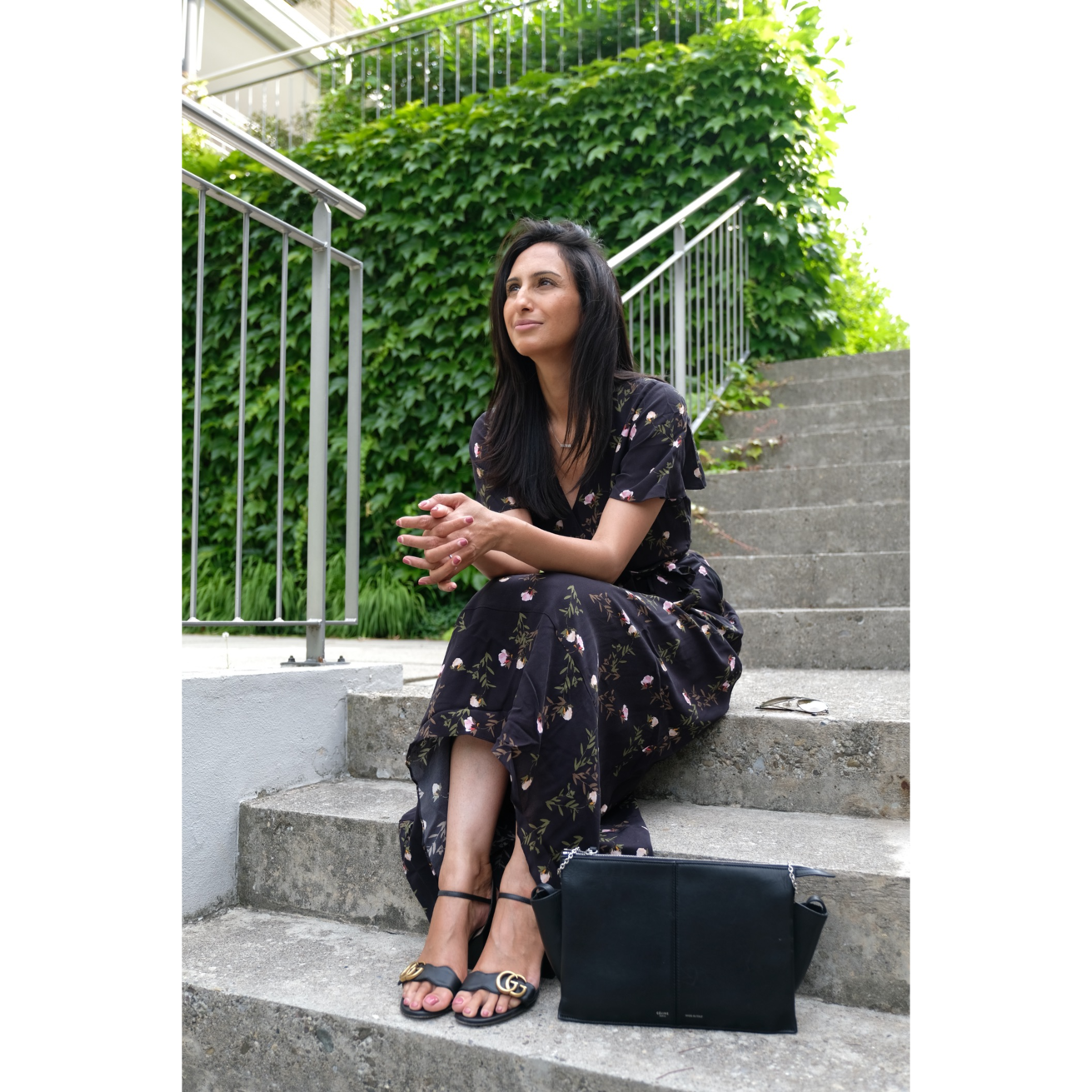 Last weekend it felt like summer had officially started, so my family and I decided to head off to our local badi (public swimming area).
It appeared that everyone in the surrounding area had the same idea too, and there was a wonderfully endless parade of women wearing all sorts of beautiful summer dresses. All of the different styles, fits and colours inspired me, and especially the midi dresses.
The Midi dress has been around for so many seasons now that it's become a wardrobe staple. It's incredibly easy to wear and ticks so many boxes. As well as ease, it's a style of dress that instantly makes you feel put together and can help keep you cool in the heat. And, because it's so versatile, it's also a perfect transition piece for Spring and Autumn as well.
As with everything though, not every midi silhouette suits everyone, so here are my tips for choosing the best fit and how to style it…
Midi Dress Length
As a general rule of thumb, when it comes to dresses and skirts I ask my clients to go for a length that sits at the smallest and slimmest part of their legs. Normally this would be just above or below their knee.
A midi, however, is designed to sit right on your calves. So, to make it more flattering, you need to find ways to elongate your legs. The easiest way of course to do this is with footwear.
Fabric and Fit
Two important things to look out for when you're choosing a midi are the fabric and fit. These two things will make all the difference as to whether the dress is going to work for you or not.
If you have a curvier body shape then you'll want to opt for a silhouette that emphasises your smallest part. With a fuller bust, a wrap-over or a shirt dress will work really well and help to cinch in your waist.
Or if you're curvier on the bottom half, accentuate your top half with a sleeveless midi or one that has some kind of embellishment. I'd also recommend a fabric that has some fluidity about it. In other words, not something structured or heavy as this will be unflattering to your shape.
If you have a small waist show it off in midis that are cinched at the waist or have a belt detail.
If your shape is quite athletic and you don't have defined curves, you can create them yourself. Go for a midi that has a lower waistline. Or alternatively you can create a waist by adding a belt or short cardigan or jacket. A more structured fabric and design will also create the illusion of curves, as will a tiered style dress.
Footwear
When it comes to footwear, it's important to ensure you don't chop your leg dimensions up too much. Ideally opt for shoes that show off your ankles, so things like low-cut trainers, sandals, wedges, sliders and mules.
You can really switch up the look of your midi dress by using different styles of shoes to create different looks. Wearing heels will naturally dress-up your midi and elongate and flatter your legs, but of course wearing heels all day isn't always practical (or comfortable!). So, for day-to-day styling I recommend adding trainers, flat sandals or a small wedge.
Outerwear
Of course, here's hoping we continue to have more of these glorious days and don't really need too much outerwear this summer!
But, in case it does get a little chilly, a nice short cardigan over your midi will look really chic. Or for a slightly warmer, casual look try a short denim jacket or for something a little dressier a short smart jacket works too. And, if you want an edgier rock and roll vibe, add a leather biker jacket.
Whatever style you go for, a great midi dress is such an easy and versatile must-have piece for your wardrobe, and you'll get endless wear from it.
Knowing which styles work for your shape can be a complete game changer. If you want to learn more about this and how you can dress this summer, come and join my 'How to Dress for Your Body' masterclass – CLICK HERE for all the details.