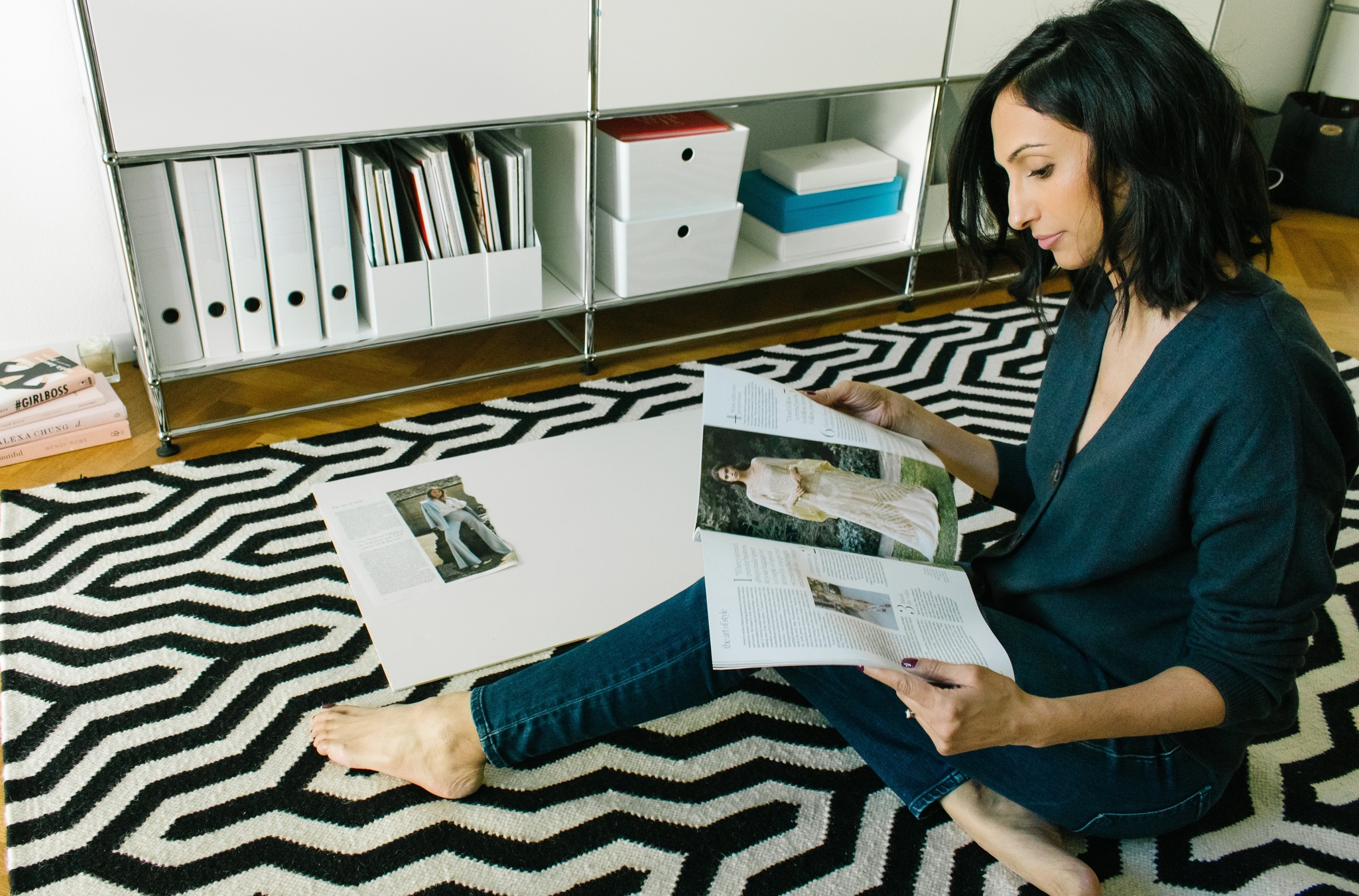 Let's talk about body shape and why we're so obsessed with it! 
We now live in a time where different body shapes are far more widely accepted. And yet, as women, we're still holding ourselves back because of our size. 
I'm super passionate about helping women break free from negative body images so they can step into their greatness. And, having dressed women of all different shapes and sizes, I can honestly say that only a tiny fraction of them have actually loved their shape when I first met them. 
And that makes me really sad! 
Now, don't get me wrong, I'm not saying that I don't care when I put on a few extra pounds myself. Over the years I've had my fair share of weight gain and moments when I've looked in the mirror and not liked what I've seen. 
But here's the thing, I don't let it stop me from trying to look my best no matter what the dreaded scales tell me. And I don't want it to stop you either. 
Excuses, excuses!
If I had a dollar for every time a woman says to me: "I want to work with you but only once I've lost these extra pounds", I'd be a very rich woman! 
Now, some of these women are really determined to nail their style so they do indeed come back to me. Often they're still at a similar size, but their desire to look the way they want overrides the limitations they've put on themselves. And once we get busy dressing their unique body, they often say they wished they'd done this sooner. 
Another statement I hear a lot is: "I don't want to spend money on clothes this size", even when the wardrobe they have is making them feel seriously unattractive – what!! 
Ladies, honestly, this has to stop!
If you know you're not showing up fully and are holding yourself back because of your size, shape or weight, this is for you…and it may be triggering… 
The issue is not your body. The issue is what's going on in your head!
Now please know, I say that with the utmost love and respect. We have to keep it real though. And you need to understand that left unchecked, your mindset will stop you in your tracks and have you blaming your body every single time. 
So, if you're stopping yourself from living your life, or holding yourself back in your career, let's cut that BS right now so you can start looking and feeling amazing in your clothes. 
What is body image?
Body image isn't just what your body looks like; it's about your thoughts and perception of your body. 
In essence, it's the mental image you hold of yourself. And this doesn't just apply to women who think they're carrying a few extra pounds.
When I was very slim I would constantly hear people say I was just skin and bone, and that made me so self conscious. And then, when I had my children, I gained weight, and I felt like that was no good either. 
One of the hardest things I found about gaining weight was I didn't want to be in front of the camera – that became a big no-no.
And if there was no getting away from the photo call, I'd either offer to take the photo to avoid being in it, or strategically position a child or someone else in front of me so I was hidden. 
I see this with other women too, and especially those who are entrepreneurs. They'll avoid opportunities to speak on stage or be visible in their business. The major drawback of that of course is that nowadays personal branding is everywhere, and in order to scale your business, you really need to be visible. 
So can we make a deal? Can we promise each other…
No more hiding behind baggy clothes (because they're actually making you look bigger, not smaller!)

No more holding yourself back from going for that job or approaching that client because of your size, and

No more being intimidated in front of the camera.. Just imagine the impact you can make showing up authentically and confidently. 
The paradox of changing your body
When you're struggling with a negative body image, it's easy to slip into a vicious cycle of wanting to change because you feel you're not "good enough". 
And then the: "I'll be happy when…" merry-go-round kicks in and you're off spinning around getting absolutely nowhere and feeling utterly rubbish in the process. 
The best thing you can do is take the pressure off and stop the self-depreciation. I've personally found that restrictive diets and excessive exercise don't work for me long-term. Yes, I've experienced short-term happiness because of the results, but that method is just not sustainable because it's difficult to keep up with, and in the end made me miserable, cranky, and basically Hangry 😉 Now I try to live by the 80% healthy/ 20% what I want approach, and I love it!
When you take the pressure and expectations off and start working on being happy in your body right now, as if by magic change naturally begins to occur.
The power of self-image
One of my all time favourite books and I recommend for you to read is 'Psycho-Cybernetics' written by a plastic surgeon (Maxwell Maltz). In the book he shares about his patients who wanted plastic surgery to feel better about themselves, but ultimately this isn't what happened. 
What Dr Maltz realised was it's our thoughts and beliefs on our self image that shape our reality, and not how our body actually looks at all. 
That's why the first thing I do with my clients is a deep dive into their mindset. We look at…
Their belief systems

How they want to show up in the world

How to upgrade their self-image, and 

How to love themselves 
And talking of loving yourself, another great book I highly recommend is, 'How to Love Yourself Like Your Life Depends on It' by Kamal Ravikant. It has some great exercises that are simple but impactful. 
Stop waiting to define your style
Your clothes give non-verbal clues as to how you generally feel and your overall level of self-worth, and they also let people know who you are as a person.
If you want to reach your career and life goals then I'd encourage you to wear clothes that represent this and showcase your personality and fit your lifestyle. 
A few nice pieces that fit your body as it currently is will make you feel so much better. I get it, if you are still determined to lose a few pounds. But in the interim just invest in a few pieces that you can easily mix and match and just watch what a difference it can make everyday.
And I'll let you into a secret, some of my clients lose weight naturally once they change their mindset, accept their bodies, and see themselves in clothes that look amazing and flatter their current shape. 
You see, your body structure will always be similar whether you lose or gain weight. For example, if you've always had a bigger booty, your booty will always be more prominent even once you've shed a few pounds. 
Understanding how to dress for your shape can be one of your most valuable tools. Knowing… 
What silhouettes work

How to put clothes together

What fabrics, colours, and accessories to wear to help you look elongated and slimmer, or wider and shorter
…And then working these areas for maximum effect, can definitely boost your confidence. 
Clothes aren't going to camouflage everything, but they can help you look and feel more stylish and put together rather than frumpy. 
So ladies, are you ready to stop holding yourself back from the life and career you want because of your body shape? It's time to get out into the world and create memories, have those photos taken, and take centre stage in your life so you can really make an impact!  
And if you're ready to take the next step and start upping your style game, come and join me for my upcoming masterclass. You can register here for: "Ditch the Dullness: 3 Zero-Cost Secrets to Catapult your Style from Boring to Influential" and I can't wait to see you there! CLICK HERE to register for our Masterclass.