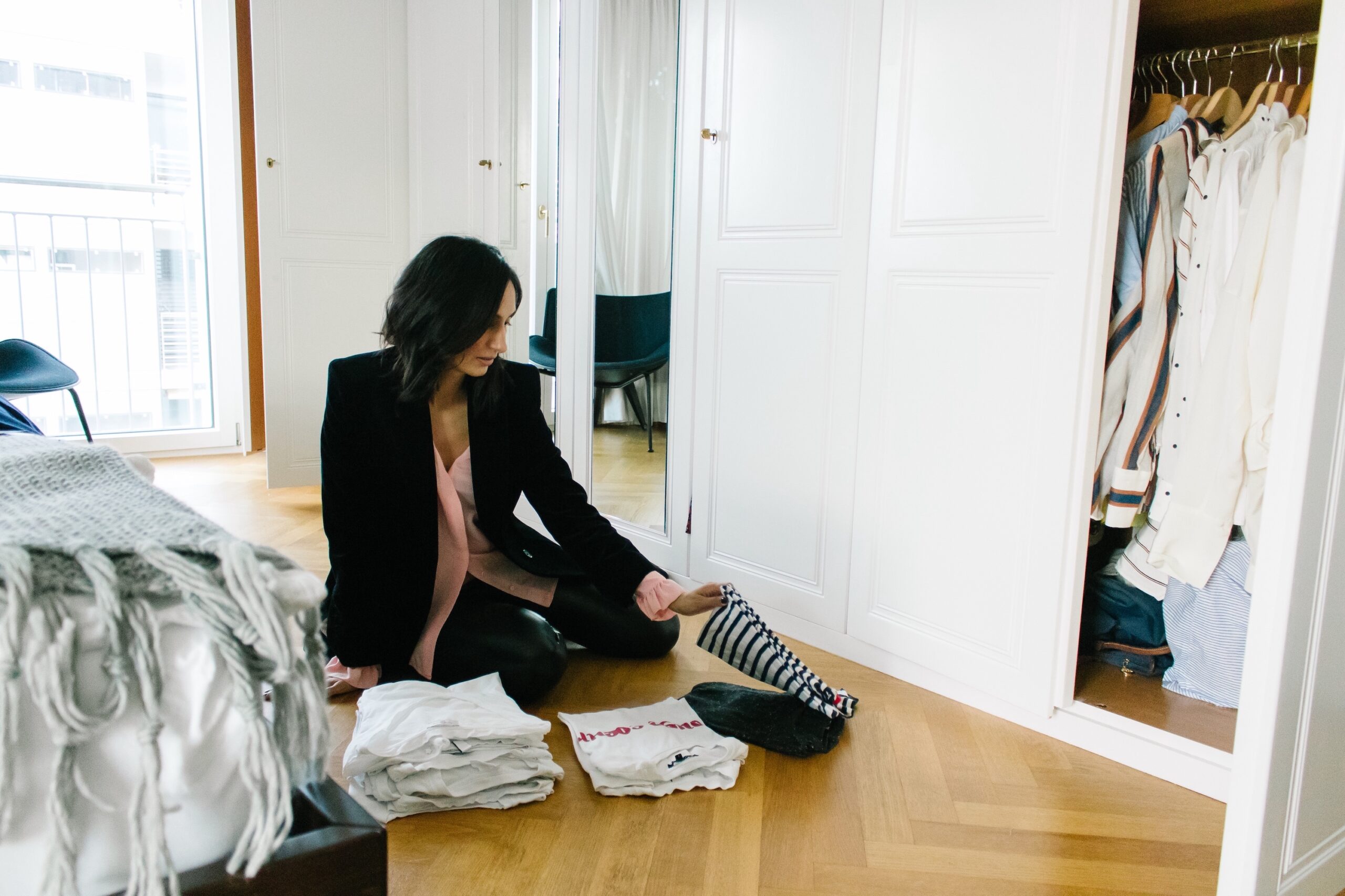 So many of us think we need to have new clothes every season. Magazines, blogs and social media tell us about the '10 essential must-haves in your wardrobe'. 'Must-have summer dresses'. 'What you should buy'. I recently saw a headline on a blog that said '100 basics you need'. I mean '100', really, I don't know how that's a basic wardrobe!
As much as these lists may be fun to read, they can make us feel confused. We get caught out thinking, "I need that new thing". But having these items in your wardrobe won't make things easier or make you feel at your best. Unless, of course, they're aligned with your unique characteristics and personality. 
"My role is to help you define your style and give you confidence with less stress and less stuff."
As a stylist, my role is to help you define your style and give you confidence with less stress and less 'stuff'. It's important you have your mind in check when it comes to the essential items in your wardrobe. This will help you get ready with ease every day.  
My goal is that overtime you'll be buying less and less and making sure you're shopping for your wardrobe first. This doesn't mean you can't buy any new clothes when a new season hits if that's what you feel like doing. Occasionally we all want to splurge on something new and that's absolutely fine. But the priority is that your wardrobe has a great foundation first. 
Don't waste time with a generic 'must-haves' checklist
As part of my service, I provide my clients with a bespoke wardrobe checklist. This is based on their unique personality, body shape, lifestyle, budget and colouring. A generic 'must-have' checklist is a waste of time. It adds no value unless you've had a 1:1 consultation with a personal stylist first. Or you're adept at adapting your checklist to your own style and know what you need. 
I don't want you to fall into the trap of thinking you have to have certain items, such as a white shirt, in your wardrobe, just because it's always stated as a classic. You should only have one if… 
It matches your style personality, and 

It fits into your lifestyle
"A 'must-have' item in a magazine doesn't necessarily mean it's the best style for you"
Remember, there are so many different white shirt aesthetics. The one that's a 'must-have' item in a magazine doesn't necessarily mean it's the best style for you. 
Another example is trainers. Trainers have been on-trend for a while now and can be seen as a 'must-have' item. They've now become very versatile and are no longer just a shoe for sports. They're regularly worn with jeans, suits, dresses, etc., and this may be a trend you're happy to adopt and make one of your essential items. 
I for one ditched my summer sandals this year and had invested in a few pairs of trainers, but this is because my current lifestyle is very different to last year. Pushing a buggy in trainers is much easier. There used to be a time when I never wore trainers outside of the gym. Now they've become one of my essential items. 
On the other hand, one of my clients who's an extremely successful entrepreneur, would never be seen wearing a pair of trainers. Her must haves are a pair of Louboutin's. This again matches her style personality and her elite lifestyle.
Defining your must-haves
To help you define your own must-haves checklist, I'm going to show you a few ways to create one that reflects you, your style-personality and your lifestyle. 
"Which pieces in your wardrobe make it easier for you to get dressed and make you feel good"
The first thing you need to consider when putting your checklist together, is which pieces in your wardrobe make it easier for you to get dressed and make you feel good. Then see what you're lacking and is therefore making it difficult for you to put outfits together.
Let's take jeans. Now, I'm not saying they're a must-have in every woman's wardrobe but, I'm sure you'll agree, in most wardrobes jeans are a staple.  
You can wear them as often as you want and they're easy to dress up and down. There's no denying, when you have a great pair of jeans that fit you well it's easier to get dressed, but when you don't it's harder to combine them with other pieces. They then become less of an essential item in your wardrobe. 
The same can be said for any basic item such as neutral shoes, t-shirts, basic bottoms, etc. Just having these pieces is not enough, these pieces need to be personal to you. 
Selecting your must-haves
Let's look at three ways you can select your must-haves.   
Value
Your closet needs to work for you and be functional – if it doesn't, it will be harder for you to get dressed every morning. If you hear yourself constantly saying "I have nothing to wear", or you feel panicky thinking about what to wear, or worry that your style doesn't represent you, then your closet doesn't hold any value. 
What you need to get clear on is the vision you hold for your style and make sure your closet serves your purpose. By that I mean it serves your lifestyle. This is the first thing I do with my 1:1 clients. 
"Ask yourself whether what you're looking at serves your lifestyle"
Our own vision is something we sometimes get lost with, because we see something looking cute on a model or influencer and think, "Oh, I need that!". I'll admit sometimes I'm guilty of that too. But you need to be practical and ask yourself whether what you're looking at serves your lifestyle and is functional for what you need?  
Break it down
To help you get clear on this, write down how you spend your time in any given week. Do you spend Monday to Friday working and weekends at your home in the countryside? Are you running around after kids all day long? Or are you now working from home all the time? How is your time spent? When you get clear on how your time is divided, from there you can see what type of clothes are essential.  
For example, if you work 40-hours in an office (this may have changed to working from home) and weekends are casual, then the bulk of your wardrobe should be tailored towards work. Depending on your work dress code, from there you can see what the essential items in your wardrobe need to be – for example, this is where a great white shirt might be needed. However, if you're a mum running around after kids all day, a white shirt probably won't be a very practical item (depending on the age of your kids), so instead it might be a t-shirt and jeans.  
One of the reasons women end up wearing the same clothes again and again is because their wardrobe is not in balance with their lifestyle. They don't have enough clothes suitable for how they spend the majority of their time.  
Align with your personal style
This is really important. If something doesn't align to who you are, you're never going to feel your best in it. Having that summer 'must-have' isn't going to make you feel stylish, even if there are 10 different ways to wear it! I truly believe when your clothing is aligned to your personality it's a win-win situation. You will exude confidence and it also shows the world who you are. 
"It's always about how your clothing makes you feel"
I believe that your vision and feeling good in your clothes is going to trump anything else. It's always about how your clothing makes you feel. I'm sure you've had the experience of wearing something you absolutely love and how in tune it feels to who you are. 
Enhance your unique characteristics
Just having a wardrobe that matches your personality and lifestyle isn't enough. To look your best, you need clothes that fit you well and in colours that make you feel good.
Colour
I often read advice that says, 'wear more colour' and how 'colour can change a look'. Yes, colour is important, and it definitely can elevate your wardrobe. But wearing a colour just because it's the colour of the season isn't going to do you any justice. Only go with colours you feel comfortable in and that you know work for you. 
Here's a classic example most of us have experienced…
You go into a store and immediately a piece of clothing grabs your eye. You love the colour and style and you simply have to try it on. Once you've got it on, you feel kind of washed out. But hey it must be the lighting or the mirrors in the changing room (most often they are awful) and you end up buying it anyway. When you get home, you try it on again. Again the colour isn't working for you. Then you try it with make-up or with other items from your wardrobe but it's still not working. Now you've spent money on it you have to wear it, and you do wear it, but you never feel good in it. 
Does this sound familiar?
I'm a colour expert and I'm telling you; you don't need so many colours in your wardrobe. Go for tones that you know suit you and make you glow. These will end up being your must-have colours. 
If you don't know what colours work for you then get in touch for a colour analysis.
Fit
The same goes for fit. Choose styles that fit your shape, not what magazines tell you to wear. For example, jeans come in so many different styles and washes but for many years the skinny jean has been the staple. But if this fit makes you feel more conscious of your thighs and bum and doesn't make you feel amazing, then it's not a must-have style for you. 
Your must-haves need to be pieces that you feel your best in and you can wear again and again. They're the items that tie your clothes together to create a cohesive wardrobe that reflects your authentic style, and the image you want people to see. 
Always remember, to create a wardrobe you love and actually enjoy wearing, your must-haves need to be pieces that work with your unique characteristics first, plus fit your lifestyle and reflect your personality.
If you'd like some help getting clear on your 'must-haves', book yourself into my diary for a free 20-minute style consultation and let's work out your checklist together.