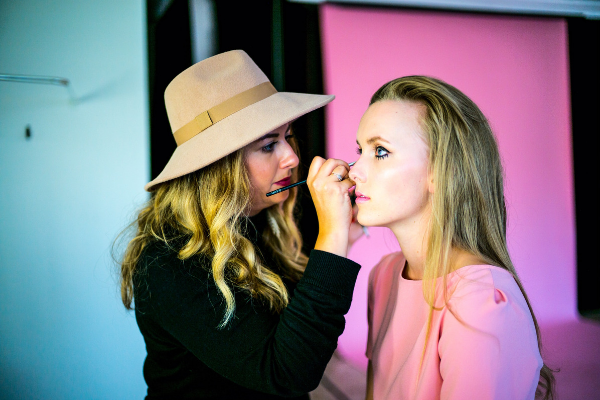 Although not all trips are created equal and there are many factors that come into play when packing your luggage, there are several tried and true tips that I've accumulated in my many years of travel. As a makeup artist and makeup enthusiast, I find planning your makeup looks ahead of time, the way you might do with your outfits, to be nearly impossible. Which is why I always found myself overpacking my makeup bag, insisting that "maybe I'll finally wear this daring blue eyeshadow in Bali", or thinking "but what if I only bring this one subtle pink lipstick to France and then have the urge to wear a bright pink or a red".
After, or sometimes even during, every journey I would have my come-to-Jesus moment and realize that out of all this extra makeup I brought, I maybe used one or two products which are not in my typical everyday makeup routine. So, it's my pleasure to share some of my wisdom with you, in hopes that you too can go forth and save yourself lots of time, stress and some extra baggage weight allowance. 
Where are you going?
Location, Location, Location – realistically think about where you are going, what the climate is like there and what kind of daily activities you'll be taking part in. For example, if I'm headed anywhere beachy/tropical or hot, I know that 75-90% of the time I will only be rocking the SPF/factor 50 and some lip balm. Whereas, if I'm heading somewhere more urban, with a mild to chilly climate, I'm most likely going to bring my daily makeup and maybe one to three "fun products" – more on those later. 
Looks that last the day
Longevity is key – the last thing I want to worry about when I'm on a trip, is whether or not my makeup still looks ok. As a makeup artist that usually doesn't have the time nor, frankly, the will to touch up throughout the day, my daily makeup tends to consist of only long-lasting formulas which I know will work for me and not against me. But if that doesn't apply to you, I highly suggest researching and buying products that are long-wear formulas and filling your travel makeup bag only with products you know will stand the test of travel, tours and tough conditions. Two words: waterproof mascara. 
Customise your palette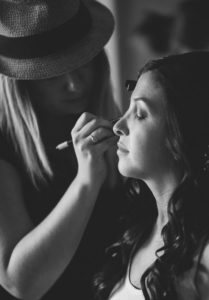 Put the eyeshadow palettes down – there are a few instances I remember in which I traveled with 2-3 eyeshadow palettes and not one single eyeshadow so much as grazed my lids the entire trip. Nowadays, I stay realistic and if I choose to pack eyeshadows, I forego most of the "fun products" and just bring a small palette of four neutral-ish shades with me. For vacation Nicole, eyeshadows in the daytime are usually unrealistic due to the presence of sunglasses or sheer lack of motivation to spend my time getting ready in the morning when I could be out doing anything and everything else. I suggest bringing just a few shades that you regularly wear or absolutely love and if possible, putting them into one palette to save space. These days, companies like MAC, Z-Palette and many more sell empty magnetic palette which you can fill and customize yourself.
I tend to collect beautiful, fun and interesting products that I want to wear but never do and then end up adding them to my kit. Sometimes I romanticize and think that I'll wear that crazy bold lip or striking bold eye on vacation but like I said above, when the time comes, vacation Nicole usually can't be bothered to experiment. 
Maximise your products
Lots of options with little product – learning how to maximize the products you bring with you is a great secret to successful minimal packing. I apply the same thinking when packing a travel bag as when I streamlined my professional makeup kit years ago. I was so tired, mentally and especially physically, of carrying a large and extra heavy kit around to my various jobs. Once I took a look at everything and realized that I only use about a fifth of what I bring and always end up mixing product to achieve the result I want, I ditched the clutter and kept products that were most versatile and compact. 
For example, if you are a lipstick person and find yourself wanting multiple options on your trip, try packing one lipstick and maybe 3 very different lip liners. The lip liners take up much less space, are significantly lighter and when you mix your lipstick with a liner – you create new shades and give yourself many more options without the fuss of 10 lipstick bullets in your bag. I also like to pack a cream eyeshadow which doubles as a primer. Think of it as getting the most bang out of your buck.
Sample saviours
Little bottles and samples are your best friend – I am not sure why more cosmetic brands don't sell more travel sizes of makeup. The same logic that is applied to all the cute, little travel size deodorants, tooth pastes and other assorted toiletries should be applied to makeup as well. The last thing I want to do is travel with a glass bottle of foundation, praying to the travel Gods that it doesn't break somewhere along the way.
In an effort to reduce the weight of my bag and reduce waste, I tend to decant a portion of my full-size liquid and cream makeup products into small, reusable containers. Another great tip is to go to a makeup counter or store and ask them if they have any samples of the products you use. Typically, the samples they give could get you by for a least a few days. Some brands will give you a Gift with Purchase that will include smaller-sized products, like mascaras or lipsticks, etc. I always put these aside and save them for my travel bag. An important thing to remember for liquid and cream products like foundation and mascaras is that once you open them, the expiration starts ticking faster. So keep them unused and closed until you really need them and then be aware not to use them after they've gone bad. 
If you've made it this far, thank you! I hope you were able to learn a thing or two and that this will help you make better decisions during your next packing experience.
If you have any questions, please feel free to comment or contact me. I am available for one-on-one and group consultations, instruction and workshops. While I'm currently based in Zürich, I do travel (light) worldwide. ;) 
Thank you again and I wish you safe and happy travels! xoxo
Nicole