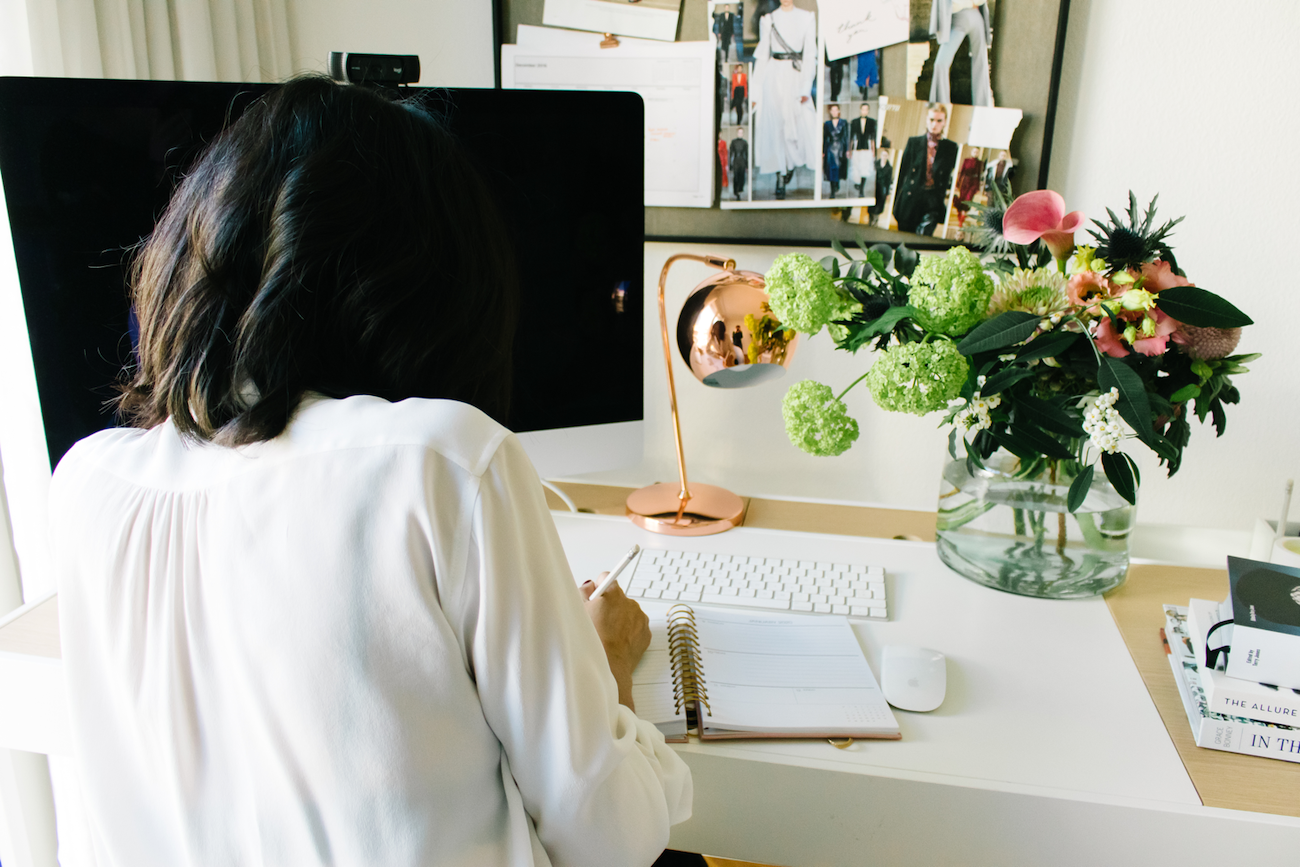 Hands up if your new norm includes spending a lot of your day on Zoom or some other video tech program?
Yep, me too!
We'd like to think when it comes to dressing for video conferencing that it would be easier than meeting in person. I mean, logically you only need to think about how you're looking from your waist up right?
Ummmm sadly no!!
In fact, I've recently had a few women getting in touch to ask me how they can create a presence on video calls and what they should wear. After all, no one wants to be just another square on a screen. What you really want is to make the screen space you're occupying pop!
Look professional when you Zoom
Have you witnessed the person who rocks up to a video call having just rolled out of bed, dragged a brush through their hair, thrown on a hoodie and has their unmade bed as a backdrop? Or the mum working from home with her cheeky kid in the background pulling funny faces (funny, yes. Potential to go viral, yes. Professional – that'll be a no!)
"Working from home is not an excuse for slipping on your loungewear every day"
When you're using Zoom as a professional tool, and you want to create a stylish presence, you still need to make sure you're turning up looking your best. Working from home is not an excuse for slipping on your loungewear every day.
There are some important factors to consider right out the gate when it comes to choosing your Zoom outfits:
Your position in the company
The company culture
Company dress code
For example, whether you hold a high-level position or you're a junior, if the company culture and dress code is smart, it's just not cool to turn up to a call in a t-shirt and jeans!
At all times keep your company norms in mind and have the mindset that you should look put together, even if it's a video call with your peer groups. When you take the time to dress the part you show instant gravitas and professionalism.
That being said, what you usually wear to work (especially in a corporate environment) may not be exactly the same on Zoom. You do have a little license to dress a little more relaxed, but still smart and showing professionalism.
Let's take a look at how you can easily do this…
Wear colours that compliment you
Believe me, I know, it takes a whole load off your mind to automatically opt for black or white. But these colours will make you look washed out and, let's face it, the majority of other people on the call will likely be wearing dark colours. In a sea of dark, it's colour that's going to draw all eyes to your square.
The camera absolutely adores jewel and rich tones, so try to wear these on your top half. Go for a colour that lifts your skin tone but that isn't too close to it (we don't want people questioning whether you have clothes on at all now do we!).
"If you want to influence a certain situation, you can subtly do this with the colour you wear"
Wear colours that compliment your characteristics. For example, if you're a redhead a warmer pallet will look beautiful. If you're quite light skinned with light hair a cooler pallet will make you look more vibrant. Colour psychology is also a great tool to use. So, if you want to influence a certain situation, you can subtly do this with the colour you're wearing. I'll soon be sharing a blog post all about this.
Accessories
Accessories are a great way to add an interesting dimension to your look, but please air on the side of caution and don't overdo it!
Jewellery adds a bit of sparkle and interest but make sure it isn't distracting. You want people to pay attention to what you're saying and not to your jewellery jingling in the microphone.
If jewellery isn't your thing, a nice scarf will also do the trick.
Prints
You need to be careful with prints and if you're not sure if you wear them well I'd suggest avoiding them.
However, if prints are your thing, go for something small but not too busy as this can strobe on camera. Ideally go for a blocked colour in a soft lux fabric like silk, as the camera works well with this.
A little bonus Zoom tip
For many of us, face to face meetings feel easier and being forced into being on camera for video calls really pushes us outside our comfort zone – I hear you, me too!
So, if you're camera shy or feel slightly nervous, here's a top tip I was taught in my early days as a buyer at Harrods…
Wear heels!
Psychologically heels make us feel more in control. I know it might seem a little silly wearing heels to sit at your desk at home, but I highly recommended you give it a try and see if it makes a difference for you.
Above all else, remember, it's important to maintain your gravitas and professionalism for Zoom just as you would when you're face to face, and what you choose to wear matters and makes a lasting impression.
To guide you further I've created an additional freebie 'How to Set Up the Perfect Zoom Call', because making an impact on Zoom is not just about your clothes, it's about creating the right setting as well.