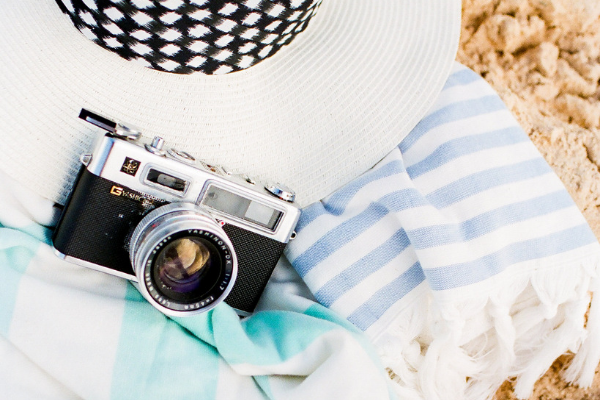 Let's set the scene…
With only a week to go until your greatly anticipated holiday, you can barely contain your excitement as you count down the days!
As you busy yourself getting all your last jobs done to avoid dealing with work issues while you're away, your mind starts to wander off to your holiday and the outfit looks you want to create…beach goddess anyone?!
Before you know it, you're scrolling like mad on Instagram, screenshotting every influencer you follow so you can recreate their perfect squares. But then panic sets in – do you actually have the right clothes? OMG do you have enough time to shop?!!
Last minute shopping complete, it's finally time for the dreaded packing! You have your fabulous new pieces, along with your existing holiday favourites, and as you squeeze them into your case you cross your fingers and hope and pray that your growing case isn't over its 23kg allowance! Actually, who are we kidding, it's more like 20kg allowance to leave room for cosmetics!
Now the stress is kicking in! You feel pretty sure that everything you've packed is vital to achieving your beach goddess look, but something has to give. And then the game begins, a few pieces come out, a few go back in, and this continues until the scales finally read 20kg…halle-freaking-lujah!
Sound familiar?
This use to be me, and now with a child I have even less space and need to utilise, multipurpose and minimise what I take.
As a personal stylist and also as a working woman who's experienced the above, it's my pleasure to share my wisdom so you can have a stress-free packing experience, every time!
Golden rule
Weather Forecast! Before anything, look at the weather forecast. Now I know this sounds like a no brainer, but I have been on many, many holidays where I just presumed it would be warm and to my surprise it rained 80% of the time.
Holiday planning
Outline a rough guide of what you'll be doing on holiday (day & evening), and also where you'll be going. What you pack for a city break will be very different to a beach holiday. For example, if you're having a beach holiday with temperatures of 30 degrees plus, think of all the activities you might do… laying around the poolside 2-days, beach 3-days, visit the city 1-day, fancy restaurants 3-nights, etc.
Having a rough guide will help you plan what type of outfits you need, and also if you can multi-purpose some of the outfits – in other words, take a day time look to an evening look.
Create a holiday wardrobe
A week before your holiday start moving items you'd like to take onto a separate rail, or on one side of the rail in your wardrobe. This will help you see how many items you have, are there similar items doing the same job, are they all separate or can they be mixed and matched together, do the colours work together and is there anything missing that you'll need.
Think in 3's – Once you have your full selection, start editing and putting a capsule wardrobe together. The best way to do this is to see if you can create 3 ways to wear each item.  It's sometimes easier to go bottom up.  So, for example you may have 3 pairs of shoes, see how you can wear these shoes 3 times with different outfits.
Accessorise – Accessories are your best friend for:
1) Creating a more personal style,
2) Taking a look from day to evening, and
3) Creating various combinations
Be careful not to go craaaaazzy with accessories! Look at the outfits you've created and see which accessories you can multi-use…do you really need 5 pairs of sunglasses or will just 1 pair suffice?
Dress up/Dress down – Are there items you can add that take a day look into evening.  For example, if you have a buttoned summer dress, you can wear it unbuttoned with your swimming costume by the poolside, as a dress for sightseeing and for the evening dress it up with sandals, jewellery and a clutch.
Your beach holiday guide
For a week-long beach holiday, here's a guide for what to take:
Three styles of shoes – for example flip flops by the pool, a pair of sandals and then a heel/wedge for the evening.
3 pairs of bottoms – this could be all or a combination of shorts, trousers and skirts.
4/5 tops – 1 long sleeve, then some casual daytime tops and 2 tops for the evening.
3 dresses – these can include a maxi, jersey dresses and summer dresses
2 pieces of swimwear that you feel comfortable in and you will wear. If you are conscious of baring all, then find a bikini or swimsuit with a bit more coverage. There's no point taking a number of bikinis that you won't wear.
2 coverups – these can also be worn as tops or a dress if not too transparent. You could even use a dress or a shirt as a coverup as well.
Beach bag for the day and a nice handbag for day and evening, and even better if you can use the handbag as a clutch as well.
Jewellery – this is very individual to your taste and how much jewellery you actually wear. My advice is to take a few necklaces that can elevate a plain outfit, that you can wear with your bikini, but also out in the evening. Statement earrings can also be great for poolside and jazzing up an evening outfit.
I hope these tips have been useful and will help you make better decisions and have a more joyful packing experience, and a lighter suitcase!
If you're ready to create your own signature style that takes you from home to holiday with ease, get in touch and see how our styling services can support and inspire you.