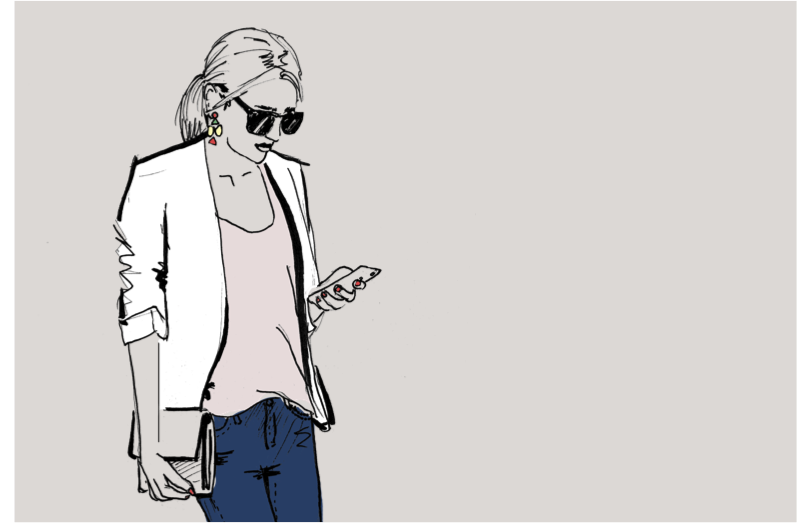 London to Zurich
From catwalks, photoshoots and model fittings to determining what women should be wearing across the world, for ten years I worked at the heart of London's fashion scene.  After gaining lots of experience working for prestigious brands like Dior, House of Fraser and Harrods, I finally worked my way up to become Womenswear Merchandise Manager at Burberry.
Then love happened.
Like many I tried to combine my work and private life with the long-distance trips from London to Zurich. I had fallen in love, but I also loved my job.
In 2014, we finally got married and we made the decision to make Zurich our home.  A year later our son Kian was born.  I took a career break and enjoyed my new adventure of being a mum, but I had the desire to start a business which would help women and combine my love of fashion.
The light bulb moment
After the birth of my son, I felt slightly lost with who I was. Putting outfits together – something that once came so easily to me – was now a struggle, and found myself saying 'I have nothing to wear' or 'nothing fits'.  The clothes I had in my wardrobe just didn't feel appropriate.
My lifestyle had changed since my Burberry days but my wardrobe had not.  As a mum I needed a wardrobe that was functional but at the same time I didn't want my clothes to read 'mum'.  I longed for a capsule wardrobe with key pieces I could mix and match.
Last summer at a friend's wedding in London, the idea of Signature Five came about. I was talking to one of my girlfriends, a mother of two who also has a high-powered job at a luxury online retailer.  Chatting away we discovered we were at a stage in our lives where we wanted a handful of investment pieces that we could easily put together, rather than a wardrobe full of clothes.  We joked that we should start our own label.
A seed was planted. I kept thinking there must be a lot of women having similar issues who just want signature pieces in their wardrobe that they can easily put together.  I realised that any woman going through a change in their life will feel they have 'nothing to wear' unless their wardrobe reflects this.
As I ascended into the clouds on the flight back to Zurich, Signature Five was born.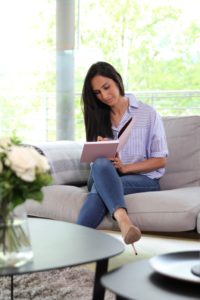 Signature Five is born
This motivated me to be ruthless – to clean out my closet and put my merchandising skills to use. I grouped, folded, hung and colour coded the remaining clothes in my wardrobe and from there I saw items of clothing I had too much of and what I lacked.
I updated my wardrobe and searched for items I knew I would wear time and time again.  I gave my wardrobe the revamp it so desperately  needed.  I put myself first and for the first time in ages, I invested in myself, and it was the best thing I did.  I knew what I wanted my clothes to say about me and I knew the impression I wanted to make.
I do believe first impressions are formed by how we dress, appear and our attitude. When we know we look good, we naturally come across more confident and have a positive attitude, which in turn gets us to where we want to be.
So many of us forget about our wardrobe, we put everything else first or continue to dress the same way our whole lives, without evolving our style. Sometimes we just need new pair of eyes to able to be more objective.
Signature Five's mission
After gaining ten years' work experience in fashion, a Masters in Fashion, a diploma in style coaching and extensive research on personal styling, my mission is to make women feel empowered, chic and confident with the power of dressing. I believe every woman should be able to show up as the best version of herself.
Through Signature Five, my goal is to provide clarity to women who are unsure of their personal style, and a wardrobe tailored to suit their needs. Our purpose is to work with women, to bring out their personality through their wardrobe, not change who they are. To show women of all ages and body shapes that we can all look phenomenal with the right styling.
I know I wouldn't have made this happen without that conversation with my girlfriends.
Sometimes we all just need a helping hand to achieve the goals we want.