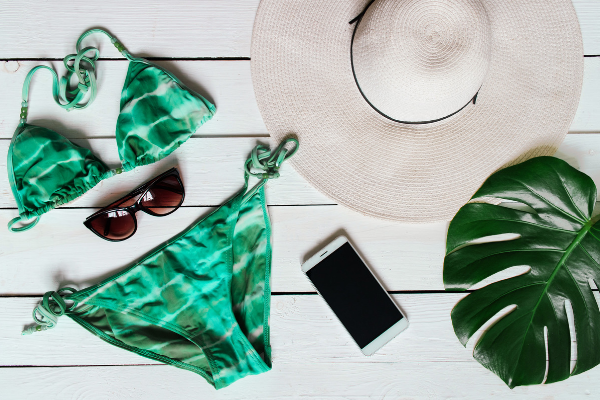 During the summer months, going on a beach holiday can stir up all sorts of anxiety about our bodies, and dread about revealing ourselves to the world in a swimsuit or bikini. We start to worry about our wobbly bits, our too skinny bits and all the bits in between, and sadly for many the excitement of a lovely holiday becomes tinged with a little (or a lot of) dread!
Finding the perfect beach look can, for some, feel like an uphill battle. So many of us can't bear the idea of trawling around the shops trying swimwear on, so instead we opt for ordering it online and keeping our fingers and toes crossed that when it arrives it fits and looks as we imagine.
My advice when buying swimwear is to really shop around (even if that is online) and don't just settle for the first thing you see and hope for the best! These days we're really lucky as there are so many more options to choose from for every shape, that help you look and feel as fabulous as possible in your swimwear.
Bikini vs Swimsuit
Can you remember the time when bikinis were the thing everyone wore and swimsuits were seen as, well, a bit mumsy! Fast forward to today and the swimsuit is now hot property and is personally something I feel more comfortable in than a bikini.  With a bikini I'm constantly fidgeting and fiddling to make sure there's been no embarrassing slips, and everything is still where it should be after going in the water!
The range of bikinis and swimsuits is so vast now, that with a bit of time and thought you really can find the perfect style that flatters your body shape, and helps you feel confident and on-trend.
Body Hang Ups
Not in shape?If you feel your body isn't the shape you would like it to be, swimwear anxiety can feel crippling! If this is you, I recommend going a for a swimsuit rather than a bikini and choosing one that has the most Lycra possible. A good brand is Miracle Suit, which has three times the control of ordinary swimwear fabrics – godsend!
Tummy Concealer
If you want to conceal your tummy and enhance your waist, look for designs that have ruching around the tummy area. As you can see from the image shared, this style is extremely flattering for the curvier amongst us.
Reduce That Bust
If you're large busted, I recommend a bikini or swimsuit that is underwired and provides plenty of support, so you can feel confident that things will stay where you'd like them too!
Increase That Bust
If you have a small chest, then padded swimwear is a great option for you. The padding will help create better proportions, and halter necks are a really good shape to flatter and enhance your bust.
Bottoms Up
Bigger bottom area? I advise going for bottoms that offer more coverage and support. 50's style high waisted bikinis are very fashionable this season for all ages and are great for covering and enhancing the waist and bottom in a very elegant and flattering way. I also recommend keeping any pattern or detail to the top half of your swimsuit or bikini, as this helps to draw the eye upwards.
Cover Ups
Welcome to the wonderful world of cover ups! Nowadays you'll be relieved to know that you can look super-stylish on the beach without having to bare all. I love cover ups as they're so versatile and can also be worn as daywear, which is a godsend when you're putting together your holiday capsule wardrobe.
To give you a little inspiration on the variety of coverups available, here are a few of my favourites:
Accessories
This season there are so many gorgeous holiday accessories to choose from, it's sometimes hard to know where to start! My advice when it comes to beach accessories is less is definitely more. Adding a couple of well-chosen pieces elevates your look and helps divert attention away from the areas of your body that you're not so confident about.
Here are some of my favourites beach accessories for this season:
We all deserve to relax and enjoy our time at the beach, without dragging the nagging negative talk around in our heads, and with a little bit of thought you really can create a fantastic look that has you feeling like the confident beach goddess you are. And if you need any extra support to find your perfect beach style, please feel free to get in touch and see how our styling services can help you.