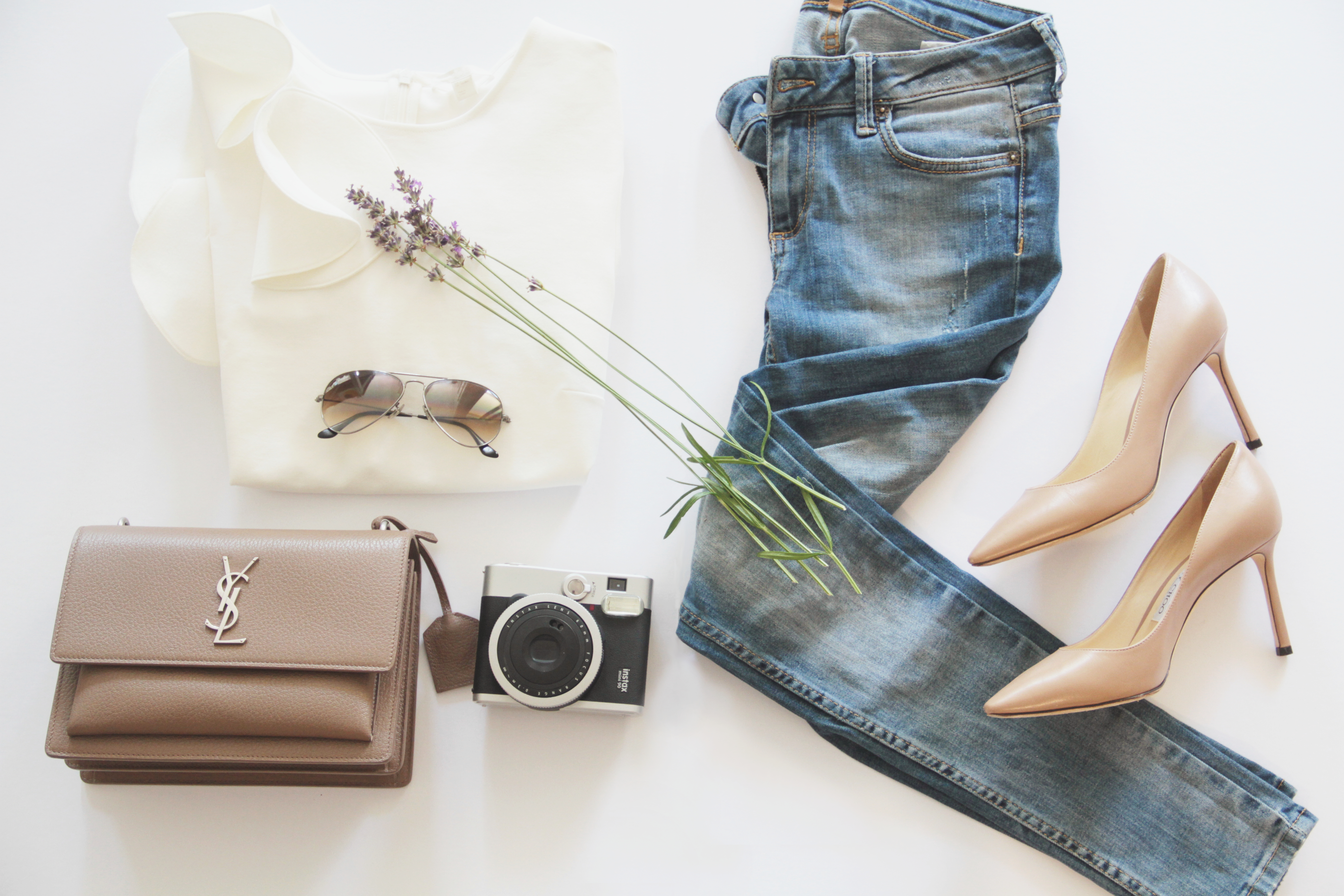 Keeping up with current trends, latest fashion or the next beauty rage can be slightly exhausting at times. I, of all people, love browsing through fashion magazines, visiting stores and reading blogs for inspiration. But sometimes it feels like we're constantly trying to reinvent the wheel.
In my twenties, I followed the latest trends avidly and I was obsessed with fast fashion thanks to the likes of Zara, Topshop and H&M. These stores were my fashion haven. I could dress like the models on the runway for the fraction of the price. I would buy, buy, buy and a lot of the times not even wear the items I bought. Instead they would disappear to the back of my cupboard with the price tags still intact!
Now I am more aware of who I am and my attitude towards clothes has changed. I've found a deeper respect for my wardrobe and I don't feel I need to fill it up with so many items. Instead I make sure I have the right key pieces for my style.
I have a capsule wardrobe that is redefined, refined and retuned to suit my lifestyle
I feel every woman's wardrobe should contain basic pieces that can easily be mixed and matched depending on their personal style, and it doesn't always need to be about reinvention. Sometimes the basics can create the perfect outfit with the right accessories.
Here are my five signature pieces I could not live without. These are items I wear on daily basis…
Denim
I truly am a jean girl. I practically live in denim and I love the way you can dress it up or down just by the top and shoes you wear.
Jeans are universal and there is a style to suit everyone. I personally love skinny jeans that are slightly above the ankle; worn with stilettos this automatically elevates a casual look.
I also love boot leg/ flared jeans worn with a high heel, with just the top of the shoe showing which looks very Parisian chic.
My favorite wash is dark denim with no fuss, something about dark denim just makes it look crisp and clean. Lighter washes work better in the summer.
Some of my favourite brands are:
On a budget: Topshop Jamie
True old school denim brands: Pepe, Levis
Premium: Paige, Rag and Bone and J brand
Wish list: Re/done
T-shirts
I love T-shirts, and it doesn't get more staple than a white one – this should be in everyone's closet.
When it comes to T-shirts it's important to find the right fit for you. A T-shirt can be worn out or tucked into your jeans or skirt. Once you've found your perfect fit buy lots of them! T-shirts are such easy items to create a relaxed and chic look.
My favourite brands for tees are:
Pencil Skirt
A pencil skirt suits most body types, and is one of those pieces that can work for the office and after office hours. Worn with a T-shirt creates a casual look; put with a blouse/shirt gives more of a smart professional look.
Rocking a pencil skirt:
All-time favourite Pencil skirt collection was Burberry's 2014 collection
Victoria Beckham always rocks a pencil skirt!
Cashmere Sweater
"If you own only one sweater, make sure it's cashmere"
Nowadays you can get cashmere sweaters at good value and my favourite are crew neck sweaters. They can be worn with a blouse/t-shirt, or adding heavy costume jewellery creates a different look. Everyone should own basic colours but one colour that is a must have is beige/nude.
My favourite reasonably priced brands for good sweaters are:
Shirts
It's always said that a white shirt is a staple piece. I do love a white shirt but I would say my favourite is a blue and white stripe shirt. It has a crisp casual feel but it can also look smart.
My favourite brands for a good shirt are:
Stella Mccartney
Tommy Hilfiger
Zara
Theory
Jill Sander
If you'd like to discover your essential pieces that suit your style, get in touch.