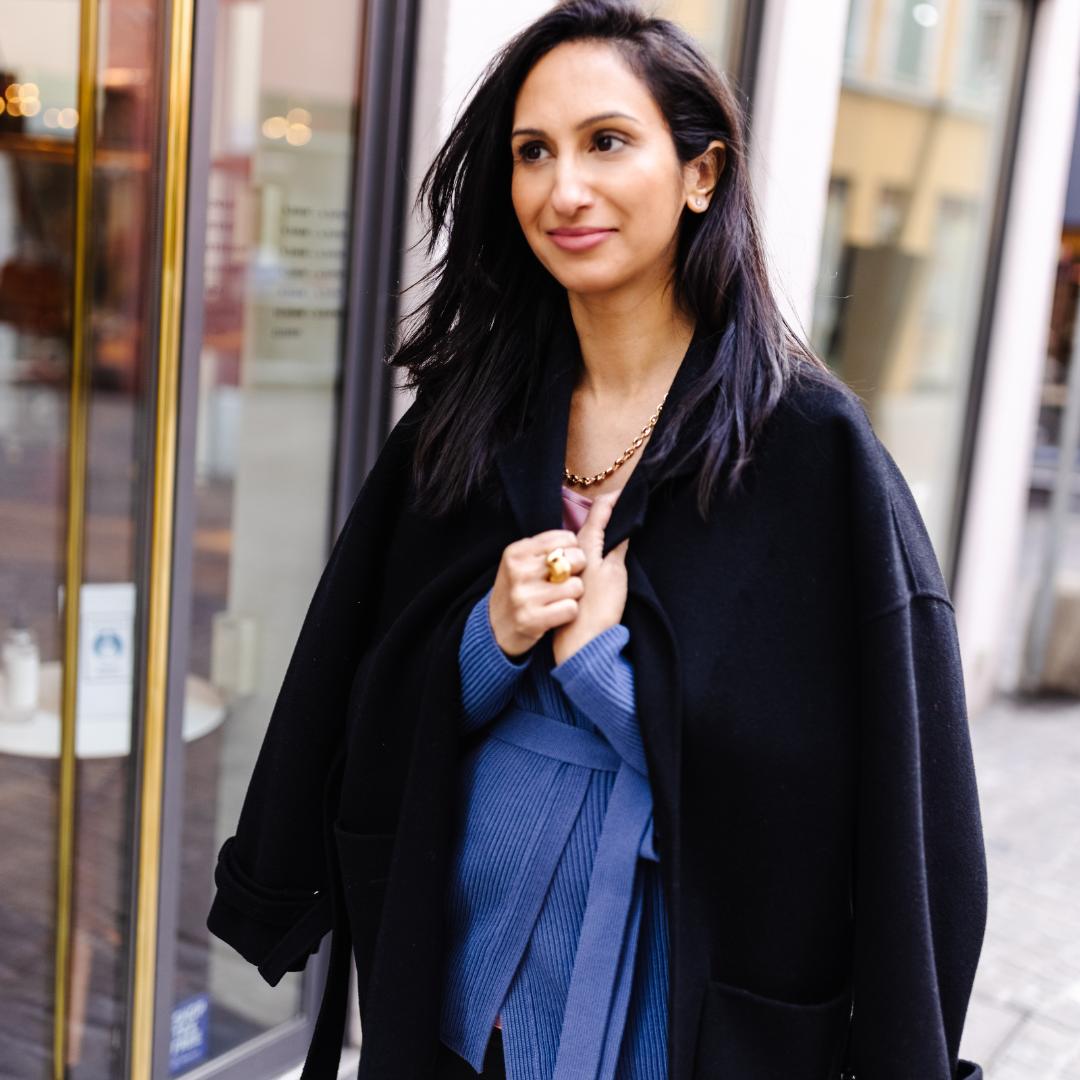 You'd have to be living under a rock not to know that energy prices have skyrocketed, and people are tightening their belts (metaphorically speaking) this winter.
As many corporations look to cut back on their energy consumption, one method being adopted is dropping the thermostat!
I even heard of one company that's shutting all energy systems down over the weekends. As you can imagine, come Monday their office is freezing. So to help combat this, they've given jackets to employees to keep them warm.
Yep, these are crazy times we're living in! 
If you work from home, maybe you're also needing to look at ways you can reduce energy, and have turned down the temperature dial slightly too. 
We've also adjusted a few things at home like the fridge temperature, and we're constantly telling the kids to switch the lights off when they're not in a room, as you can imagine, this is taking a little longer to implement. 😆
Layering with style
Of course, something else we can do to help us stay warm is by putting on layers. 
However this can end up looking bulky. So how do you stay warm, avoid looking like a Michelin man and try to be stylish at the same time?!
Here are a few of my recommendations on keeping warm either in the office or at home, and still be on point with your personal brand.
TIP ONE: Thermal wear tops and bodysuits 
If you tend to wear silk shirts or white blouses, then choose thermal wear in a nude colour. And if the thermal wear finishes higher than the top of your blouse opening, hide it by trimming it into a U shape. You can do this with thermal tops from Uniqlo and it won't fray.  
Bodysuits are also a great base layer and come in long and short sleeves. The gusset fastening is super helpful for ensuring that everything stays tucked in and smooth so you won't get any cold drafts down your back! 
TIP TWO: Multiple thin layers
Often when it's cold, we'll instinctively reach for big chunky knit jumpers. The drawback with these is that they can make you look bulky, and it's pretty much impossible to put another layer on top of them. 
Instead, think of some stylish ways to wear thin layers, such as a finely knit roll neck underneath your shirt or dress. Or a cashmere sweater underneath a blazer. Layering in this way will keep you warm and it can look super chic.
TIP THREE: Shawl blankets / Gilets / Ponchos
There's something very comforting and cosy about wearing an item that you can wrap around yourself.
Think big ponchos for an easy to wear warm item that you can throw over your outfit, and still look really stylish when you're in the office or attending a meeting via Zoom. 
Gilets worn on top of sweaters or even underneath coats is another great way to keep the cold out. 
My favourite Gilets are again from Uniqlo, and I also like Lululemon as well. 
To help you out, here's a few that I love… 
Click on image to get directed to the item link. 
TIP FOUR: Scarves
Never underestimate the humble scarf – it really can make such a difference as a layering piece.  
Scarves come in all shapes and sizes, colours, fabrics and textures and can be worn in multiple ways. They can instantly add a splash of colour to your look, and a statement scarf will give your outfit some extra dimension. 
There are so many ways you can wear scarves, and this great YouTube video will definitely get your creativity flowing.
For a stylish cosy option, I particularly love this luxurious camel hair and silk blend scarf from Max-Mara. 
TIP FIVE: Keep your toes warm
When you're out and about in the office, opt for mid-calf boots if you can. 
If you struggle with sizing and feel your calves are too big, look for styles with extra elastane across the length of the boot, or that tie up rather than zip. To avoid calves looking big, opt for boots in black and with details at the top.
Another way to keep your feet warm is to wear thermal hosiery or thermal socks. These types of garments have come a long way, and you can now pick up some really fun socks and tights. 
Here's a couple of examples for you…
Inexpensive choice
My favourite and slightly more expensive brands
So, there you have it! I hope these five tips will help you to stay snug, warm and still feeling stylish and on brand this winter. 
And if you're ready to own your style like a boss, but are currently lacking in confidence or want clarity about what your personal style looks like, my upcoming FREE 3-day workshop is exactly what you need. CLICK HERE for all the details and to secure your spot – these workshops are a lot of fun and fill up fast, so don't hang about.