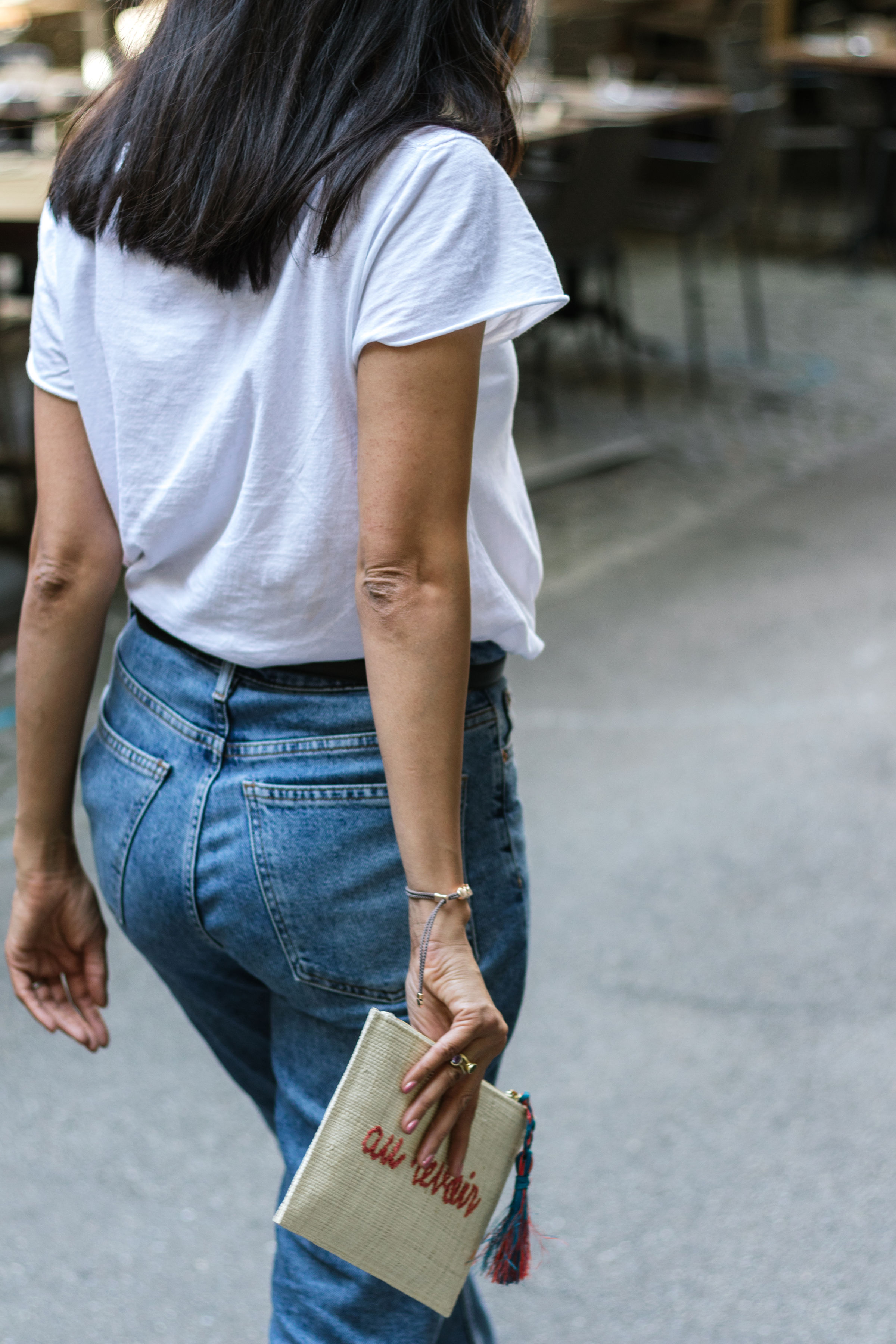 All too often I hear women complaining about their bodies, and using all of the negative things they see as obstacles to dressing in a way that they truly desire.
What's fascinating is that the way we see ourselves when we look in the mirror, is more often than not worlds apart from the way others see us! 
I mean let's be honest, who hasn't had the experience of staring at your reflection and then laser focusing in on all the bits about your body you don't like – "I'm too fat", "I'm too thin", "My hips are too wide", "My bums too big", "My boobs are too small". On and on and on we go, magnifying each little thing to be so much more than it is.
I get it, truly I do – I'm a recovering self-abuser myself! But you can bet your bottom dollar that if you let someone else listen in to your internal dialogue, half of what we see they won't even have noticed.
The struggle feels real
Women who are interested in my styling services contact me because they really want to elevate their personal style. Many have a desire to start dressing like the woman they visualise themselves becoming, but find it challenging because they're struggling with their weight or body image. 
These women will often arrange their appointment for 3 months time and, as the appointment approaches, they'll then call me to move the date, telling me they haven't quite got to the place they want their body shape to be.
Every time this happens I give a little sigh inside, because I know, hand on heart, that living a life continuously dissatisfied with your body and chasing a perfect 'ideal' shape is a soul destroying exercise. The reality is your body is amazing and a miracle and by learning how to dress it properly, whatever your shape or size, will help you embrace and love the hell out of it, so you feel gorgeous every day.  
Can I really wear this?
I'm often asked, "If I'm a certain shape can I only wear certain clothes?" The honest answer is no… aaaand yes (sorry)! Of course, you are free to wear whatever you want, and don't let anyone tell you otherwise! My only rule is your clothes need to match your personality and lifestyle, and most of all you need to feel confident in them – that is always the end goal.  I mean let's face it, no one wants to be fidgeting or feeling self-conscious in their outfit.  Your clothes should feel like your second skin, so that you forget about them as soon as you walk out of the house.
With this in mind, let's dive in to some common issues I hear and some ways you can address them…
How to hide your midriff
I understand that the urge is great to shroud this area with as much coverage as possible, but don't do it! PLEASE! Doing so just ends up creating more bulk, which in turn draws more attention there. Cover by all means, but keep it to no more than a couple of well fitting layers.
Don't conceal your waist
If you have a small waist really emphasise this asset by wearing tops that skim your body but are not baggy. You need to ensure the top fits you well across your bust and waist, and then from there it can flare slightly – the key is to make sure it isn't too baggy.
Alternatively if you feel more comfortable in loose tops, focus on ensuring the bottom half is drawn in, perhaps with an elasticated ribbed panel or tucked into a waistband.
Shapewear
For some outfits shapewear is every girl's best friend, and a godsend for creating the silhouette you want.  I personally keep a pair handy in my underwear drawer for those occasions when I'm wearing skimming dresses, to help smooth any lumps and bumps I want to hide.
Shoes
It's a little known fact that wearing the right shoes can help slim down your midsection.  Yes, I know that might sound daft, but I'll repeat it again, the type of shoe you wear can help you slim down your midsection! How? Well, wearing a thicker heel helps balance your proportions out. 
For the diehard stiletto wearers amongst us, I recommend opting for a pointy shoe, to help elongate you through the body.
Wear the right size
We need to be realistic ladies – wearing clothes that are a size too small does not make you look smaller! While we don't want to be hiding behind clothes that are baggy and shapeless, squeezing yourself into something too small is definitely less than flattering for any figure, and not to mention fraught with potential wardrobe malfunctions!!
Accessories for distraction
The humble and massively underestimated belt is fabulous for drawing your eye to your smallest area and creating a great waistline.  Also, jewelry can be used to great effect as a distraction from your least favourite areas. Wear bold statement earrings to draw your attention up and away from the body, or a long necklace to make the eye travel inwards rather than outwards. Clever hey!
How to conceal your thighs
Another issue I hear a lot about is slimming the thigh area. This can be a really problematic area for many women, but a few simple tricks can have you conquering this troublesome spot with ease! Let's take a look…
No thrills or frills
Opt for trousers with minimal detailing, especially around the pocket area or down the sides, as this widens the thighs and draws attention there. 
Long & lean
Straight and bootcut pants are the perfect style to elongate your silhouette, and give a longer and sleeker look to your thighs. Who doesn't want legs that look like they go on for days!!
Fabrics
It's amazing what a difference certain types of fabrics can make to the appearance of your thighs! Choose lightweight fabrics rather than heavier ones, as the latter will add more bulk where it's least wanted.
Choose the right length of skirt
The most flattering skirts have a hemline that finishes on the slimmest part of your leg. Think 50's wiggle skirts – now there's a style that accentuates curves and elongates the legs!
The key thing to remember is…
The best way to divert the eye away from your least favourite bits, is to showcase your best assets as much as possible.
If you're unsure what your best assets are, and would like some expert guidance, feel free to get in touch at [email protected] – I'd love to help! 
And if you have any particular body/fashion challenges that you'd like me to address in my next blog, I'd love to hear from you – again please email me at [email protected].