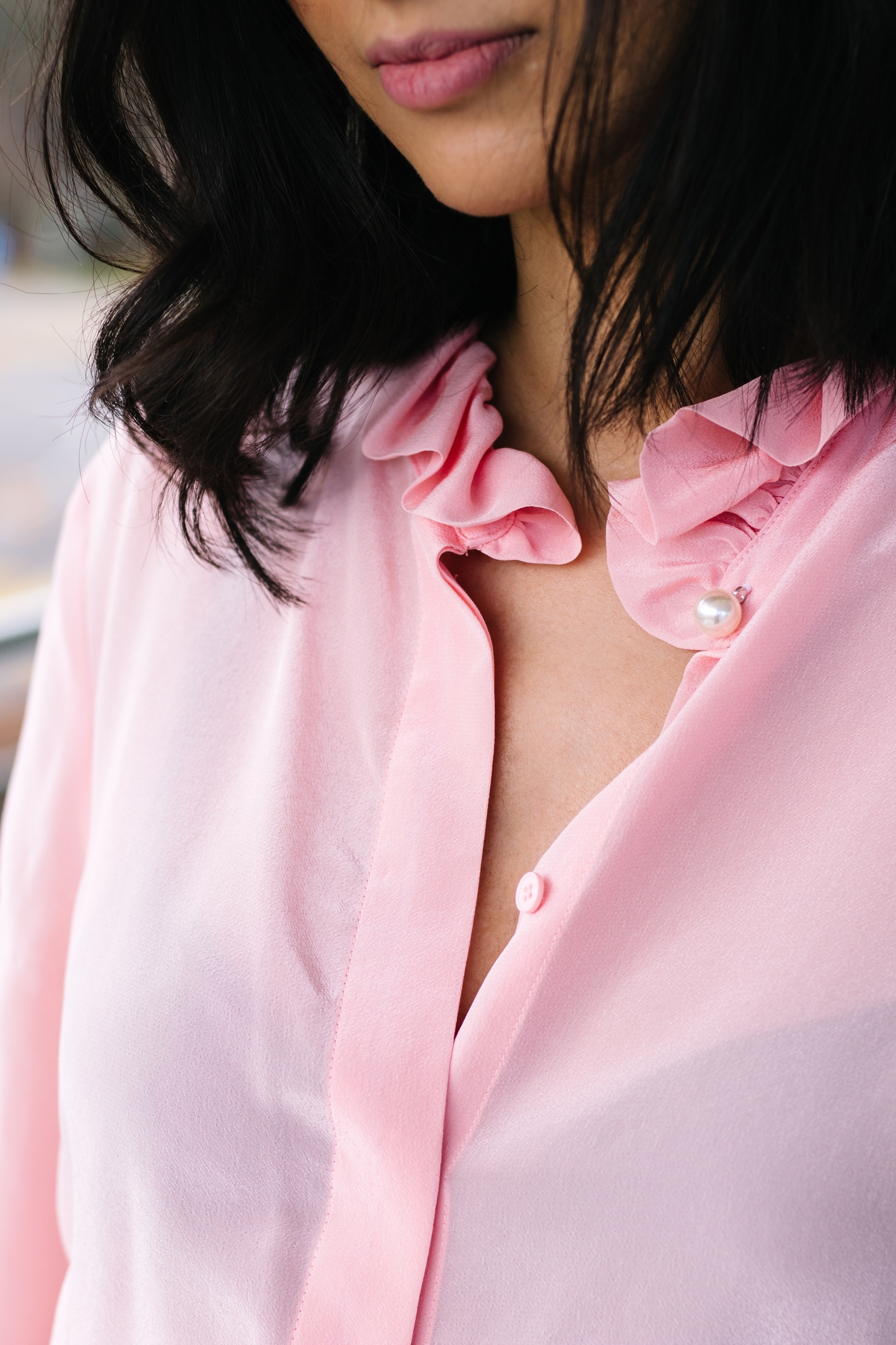 When I first started Signature Five, I had no intention of also being a colour consultant. My mission was to help professional women find their Signature Style, love their clothes and feel confident in what they wear.
I also wanted to help women simplify their choices in the morning by wearing clothes that not only flatter them, but allow them to simply and easily create stylish combinations.
With a background as a fashion buyer, putting colours together came quite naturally to me. Rather than using a colour concept with my clients, I followed my instinct with what I felt suited them. Having worked for global brands, I understood how colour reflects on different skin tones. For example, with a warm undertone to the skin warmer colours work better, and with a cool undertone it's cooler ones.
The power of colour
I finally decided to train with Colour Me Beautiful, even though I initially felt it was slightly outdated and from a different era. However, I quickly realised that colour really can be a woman's superpower!
As part of the training we all had our colour analysis done. I was surprised to see how different colours looked on me. Certain shades balanced and harmonized my skin tone and made it look more even, whereas other ones created shadows on my face.
"Colour really can be a woman's superpower"
Another interesting aspect was the way certain colours made me feel. With red against my skin I naturally felt more confident and sexier, and the same with navy and neutrals. These are definitely my go-to colours. On the flip side I  saw how another of my favourites, light grey, didn't really work so well for my skin tone.
I'm sure you've also experienced this when you've tried on certain colours and seen the effect they have on your skin tone; they either drain us or make us glow. We usually have an inkling as to which colours work best for us, yet sometimes we still wear ones that highlight certain things we might want to cover such as wrinkles and dark circles.
Colour characteristics
Colour Me Beautiful is based on the Munsell Colour System. I won't go into all the history, but in brief, it was developed by an American artist, Albert Munsell, in 1988 and is now the most used and widely accepted colour measurement system. The system is based on three characteristics: Hue, Value and Chroma.
During your colour analysis I find your dominant characteristics and then your secondary and tertiary. By the end you have 42 swatches that best fit your characteristics. It's nice to know its 42, but I do feel that having all these colours in your wardrobe can be slightly overwhelming. It can also end up making you look like a walking rainbow, and we definitely don't want that!
"There are no rules to say you can't wear certain colours"
So, I like to keep it simple and practical. With my clients I split their pallet into neutrals that best suit them, then their core colours, plus 2-3 accent colours. This simplification makes it easier to add additional colour to their wardrobe. The neutrals are brought into their foundation pieces and then we build from there.
What I want you to understand though is that there are no rules to say you can't wear certain colours. Anyone can wear any colour they want. The most important thing is that you feel confident and comfortable wearing it. Colours are a wonderful thing that are there to be embraced, enjoyed, and used to help you stand out because you know you look and feel great.
Wearing the right colours can…
Make you look younger
Give you a natural glow
Help you feel confident
Make you stand out and get noticed and
If you're a business owner it can help make your brand stand out.
Colours make a difference
It's amazing the many ways that colour can make a difference and influence our lives and environment.
It can elevate your style
One of the easiest and fastest ways to transform a plain outfit into something more exciting, is to simply add a little bit of colour. It also creates versatility. Once you know what silhouettes suit you, you can add colour to create more options in your wardrobe.
Colour influences
Colour can be used as a tool to express who you are and to influence others. It not only invokes feelings in you as the wearer but also in others when they look at you! You can make a statement about yourself by using colour. Whether you're an entrepreneur or work in corporate, colour can be used to give you a distinctive personal brand.
Draw attention to your assets
By cleverly wearing colour on parts of your body that you like, you can instantly draw attention there and away from areas that you'd prefer to disguise!
Colour creates emotions
Colour not only affects your physical appearance, but also your emotional state too. Wearing the right colours can help to create a happier, more empowered mood, but wearing colours that drag you down can also have the opposite effect.
It's your superpower
In the workplace, you can use colour to your advantage. It can help you stand out from a sea of blues, blacks, and greys, and can also give you the edge at interviews. As more of us are continuing to work from home and spend time on video conferencing calls, colour is a great tool to help you be more visible on screen.
It can also affect how others perceive you. For example, wearing navy and black can convey authority or simply make the wearer seem less approachable .
Overall, knowing what colours work for you can help you have a clearer and more decisive wardrobe. It can also take the frustration out of shopping when there is so much choice out there.
I will end here with one of my favourite quotes…
"The best colour in the whole world is one that looks best on you" ~ Coco Chanel
If you feel a little in the dark about which colours suit you best book a 'Refresh Your Style & Colour' call. I have two spots left and I'd love to work with you.